***********************************************
RMMRA Annual Awards Banquet
December 8 at Unser Racing and Entertainment
Kart Racing at 2:00, Awards Banquet at 3:30

***********************************************
Congratulations to the New 2014 RMMRA Elected Officials

President - Chris Sheil
Vice President - Jim Doyle

Board Members
Ken Clark
Eric Weland
Frank Peterson

*************************************************************


(From L to R): Owner Frank Peterson, Mechanic Mark Matejka, Driver Keith Rauch

Keith Rauch and Petauro Racing (Frank
Peterson, owner) Repeat as RMMRA
Points Champions for 2013
Season Points Totals Are Posted

********************************************

CJ Johnson Wins the 2013
RMMRA Midget Finale



The Bob Salem Memorial Nationals held Sunday, October 6th in Oberlin, Kansas were the final event of the RMMRA season. CJ Johnson won, followed by Greg Schaefer in the Todd Henry owned number 71. Keith Rauch rounded out the podium finishes and clinched the 2013 RMMRA Driver's Championship and for Frank Peterson, the Owner's Championship. 4th and 5th places on the day were past champs Tony Rossi and Chris Sheil. Scott Fennell finished 6th capping off a great season for the Ken Clark owned team. Final season points totals will be posted soon.

The RMMRA would like to thank past President Boysen Loesch for his generous sponsorship of the heat race payout at Calhan. Due to his support, all heat race participants will receive an additional $25! Thanks Boysen!




Rossi Claims El Paso County Speedway Victory

9/28/13 - Tony Rossi bested a field of 14 entries to claim his second victory of 2013. The RMMRA returned to Calhan, Co, following several rainouts, to put on a great race show for the fans of El Paso County. Rossi who led for most of the main event, held off second place finisher Keith Rauch, who was closely followed by third place finisher Chris Sheil (each of which are past RMMRA champions). The final points race of the 2013 season will be held in Oberlin Kansas on October 6th.

*************************************************************



Team Rossi Takes Top Awards at I-76 Speedway
Tony Rossi took the win at I-76 Speedway in Fort Morgan, Colorado, on August 17. Rossi defeated a field of 16 midgets and held off a hard charging Keith Rauch to break Rauch's string of RMMRA wins in 2013. The RMMRA welcomed rookies Mark Bensenberg, Lance Bennett, and Sammy Gallo, and welcomed back veterans Nick Haygood, Steve Newman, and Julie Jamison. The rookies competed for a special Top Rookie purse with Sammy Gallo taking the award in the Tony Rossi owned Spike 14T midget. Early in the Main, Heat race winners Russ Harper and Rauch stacked up with Chris Sheil who went dead on the track resulting in Rauch and Harper racing from the back of the pack as Sheil exited early. Harper DNFed in 3rd position with 3-to-go while Rauch challenged Rossi for the overall. The Rossi stable had quite a night, taking the Feature win, 3rd overall and Top Rookie. Next race is at Holyoke, Colorado on August 24th.
Great Track Conditions Make for Great
Racing at Phillips County Fair
Keith Rauch continued to dominate the competition at Holyoke in July 27th, driving from the back to take the win. Rauch suffered a mechanical failure in the heat race, setting up the dramatic main event. A well prepared track made for excellent racing conditions and a good show for fans attending during the county fair. Finishing second through fifth place in the feature were Tony Rossi, Chris Sheil, Bob Harr, and Greg Shaefer. Sheil won the heat race, followed by Russ Harper and Jay Sant. Full results can be found on the "results" link on this site.


Racers Sheil, Rauch and Rossi pictured center. Don Holbrook Photo

The race originally scheduled for June 15th at Calhan has been rescheduled for August 31st. The website schedule has been updated (see link on this page to the left). It is still to be determined if this make-up date will feature the Back Row Challenge format. In any event this should prove to be an exciting race!

The event that was rained out at Calhan, on July 20th has been tentatively rescheduled for September 28th (pending confirmation by County Officials).

The RMMRA returns to I-76 Speedway in Fort Morgan on August 17th for Fan Appreciation Night.
*************************************************************
*************************************************************

Finish Order, Harry Conklin Memorial, I-76 Speedway,
Fort Morgan, CO, June 1, 2013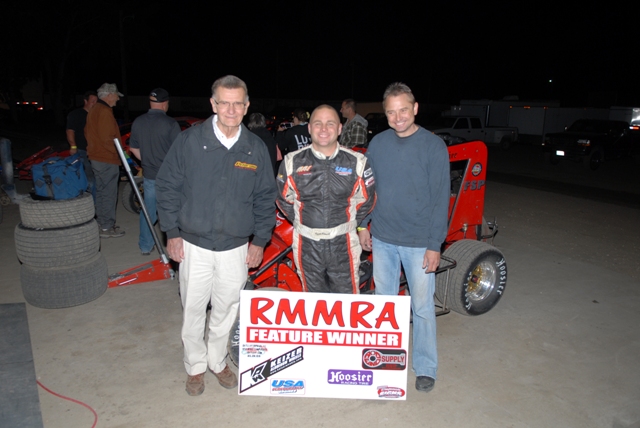 Heat Race #1
(1) 14 Tony Rossi, (2) 27 Keith Rauch, (3) 47 Jay Sant, (4) 12 Chris Sheil, (5) 33 Scott Fennell, (6) 48 Randy Oerter (Rookie)

Heat Race #2
(1) 9 Russ Harper, (2) 71 Greg Schaefer, (3) 2 Bob Harr, (4) 43 Ryan Oerter, (5) 56 Mark Chisolm

Main Event Sponsored by Don Rice Contractors, LLC
(1) Rauch, (2) Rossi, (3) Harr, (4) Sheil, (5) Harper, (6) Schaefer, (7) Sant, (8) Chisolm, (9) Ryan Oerter, (10) Randy Oerter, (11) Fennell (DNF)


*************************************************************
May 25, 2013 Holyoke, CO The Rocky Mountain Midget Racing Association opened their season at Phillips County Raceway, Saturday night, May 25th. Owner/driver Bob Harr won the heat race going wire to wire. The main event was dominated by Keith Rauch who likewise went wire to wire in the Petauro Racing number 27, a familiar sight as Rauch returns as the 2012 RMMRA Driver Points Champion. Second through sixth place were hotly contested with numerous position changes during the event, Harr (second) and Boesel (third) eventually filling out the podium positions. The event was sponsored by Don Rice Contracting, LLC, Watkins, CO. Heat and Main finish positions were as follows: Heat Race; (1) 2 Harr, (2) 27 Rauch, (3) 77 Boesel, (4) 9 Harper, (5) 14 Rossi, (6) 44 Shubert, (7) 33 Fennell, (8) 12 Sheil, and (9) 14t Doyle. Main Event; (1) 27 Rauch, (2) 2 Harr, (3) 77 Boesel, (4) 14 Rossi, (5) 12 Sheil, (6) 44 Shubert, (7) 9 Harper, (8) 14t Doyle
**************************************************************
Attention RMMRA Drivers and Car Owners
The 2013 Membership Application and 2013 Rule Book can be viewed on the Membership/Downloads Page
***********************************************
Congratulation to Keith Rauch and Petauro Racing
2013 RMMRA Driver and Owner Championship



*****************************************************